Upcoming & Previous Events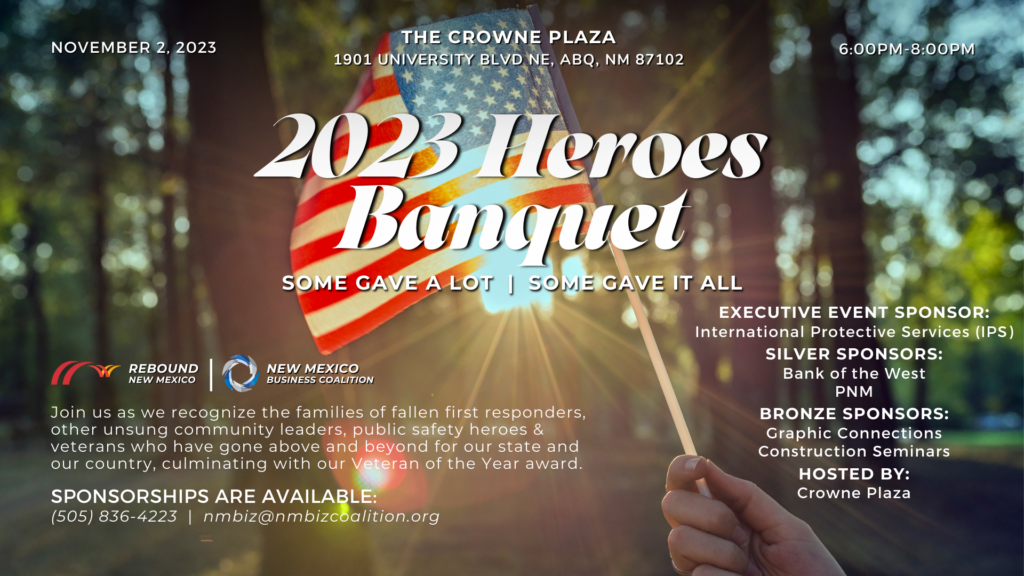 Join us On November 2 at the Crowne Plaza, from 6-8pm, for our 2023 Heroes Banquet!
We'll be blessing our community by honoring our public safety heroes and veterans from all over the state, recognizing the families of fallen first responders, culminating with our Veteran of the Year award.
This is a very formal and emotional event that truly gives back to the community and reflects the heart of RNM and our sister organization, the New Mexico Business Coalition (NMBC). Food will be served by the Crowne Plaza and tickets will be available soon!
We want to offer a HUGE thank you to our…
Tickets will be available soon! 
Want to sponsor this event? Click HERE for more information.
Have any questions? Call NMBC at (505) 836-4223 or email nmbiz@nmbizcoalition.org
A community-based New Mexico nonprofit organization is hosting a speech event where participants are asked to answer the question, "What does patriotism mean to you?"  Read
Read More »
Rebound New Mexico is a 501(c)(3) organization. Contributions are tax deductible to the extent allowed by law.