Upcoming & Previous Events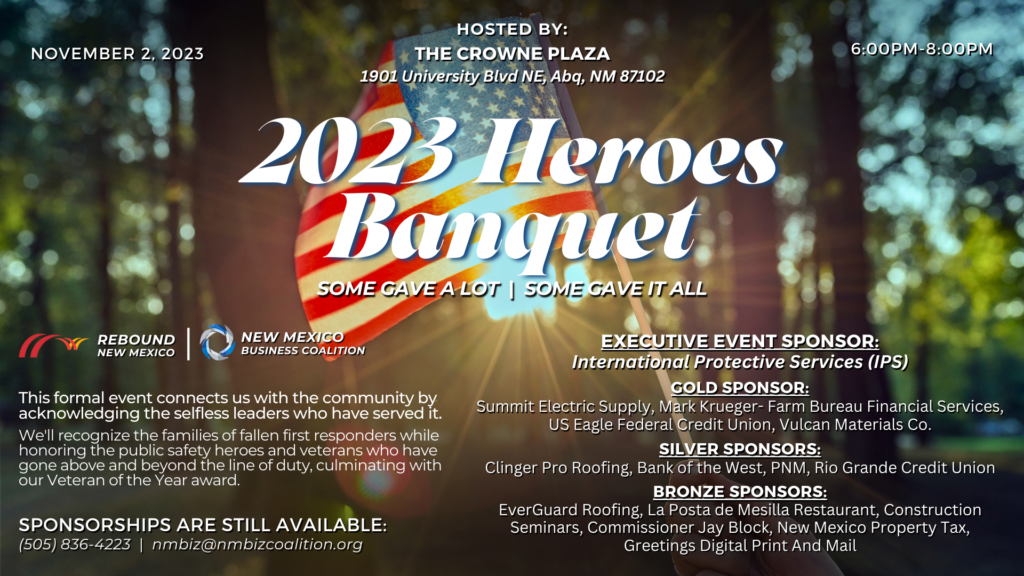 November 2, from 6:00pm-8:00pm, is our 2023 Heroes Banquet and you're invited!
This year's banquet will be honor the lives and the families of fallen first responders, while honoring public safety heroes and veterans who have gone beyond the line of duty, including the recent tragedy of officer Anthony Ferguson of the Alamogordo Police Dept.
Community leaders and advocates will also be recognized, with our Veteran of the Year award closing the event.
This' a touching event by RNM, in partnership with our sister organization: New Mexico Business Coalition.
Proceeds from this event will provide: Scholarships for the children of fallen heroes and a donation to the 100 Club, a charity that provides immediate funds for families of fallen heroes.
Have other questions? Call the office at (505) 836-4223 or email nmbiz@nmbizcoalition.org
A community-based New Mexico nonprofit organization is hosting a speech event where participants are asked to answer the question, "What does patriotism mean to you?"  Read
Read More »
Rebound New Mexico is a 501(c)(3) organization. Contributions are tax deductible to the extent allowed by law.